Helen Holt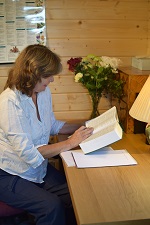 I first became interested in complementary therapies when my vet successfully cured my Irish setter's severe travel sickness, proving to me that it can't all be placebo if it works on animals!
I qualified as a homeopath in 1994, then trained in Cranio-Sacral Therapy with the Upledger Institute and have now nearly completed a Level 5 Diploma in Myofascial Release Therapy. During the last year I completed training in Rhythmic Movement Therapy, and qualified as a Consultant early in 2019.
I have over 15 years experience of teaching and working with children and young people with emotional and behavioural difficulties including ADD, ADHD, ODD, OCD, Aspergers, Autism, anxiety and PTSD. I have worked both as a teacher and classroom assistant in a wide range of SEN schools in Surrey and Berkshire, and done 1:1 tuition with excluded young people and Looked After Children. This wide range of experience working with children and young people with special needs has given me a good insight into challenges they face.
I am based in North Guildford, and work from home in a purpose built log cabin at the end of my garden.
I am fully insured and have an enhanced DBS certificate and undertake Safeguarding training every year.
You can review my privacy policy here